.We are currently NOT advising you to use ITRADER. Please, choose from our reliable alternatives:
ITRADER Forex Review - A Secure and Robust Trading Platform
.

Super competitive fees

Training programs

Smartphone bonus
ITRADER is a secure and robust online trading service provider operated by Bayline Trading Limited, which is in turn regulated by the Belizean International Financial Services Commission (IFSC). Their services are customer-oriented and designed to meet the needs of specific categories of retail traders.
ITRADER has been able to maintain a distinguished presence and name for itself in the online trading service provider market. Its use of latest technology for providing complete security to the data and funds of its clients also sets it apart from the competition. The current article provides detailed insights into the services and features of ITRADER.
Account Types
ITRADER has different accounts which have been designed considering the varied level of trading experience and knowledge. The different account types offered by them are discussed below:
Silver Account
Silver account is ideal for beginners. If you have just started trading and want to learn and develop your skills, then you can opt for the silver account of ITRADER. With this account you get EUR/USD spreads of 2.2, GBP/USD spread of 2.8, and USD/JPY spread of 2.3. The gold and crude oil spreads are 0.59 and 0.07 respectively. You get a Forex leverage of 1:200. You get 24/5 support and hedging with the silver account. There is also an option of choosing the Islamic account and fifth decimal with the silver account of ITRADER.
Gold Account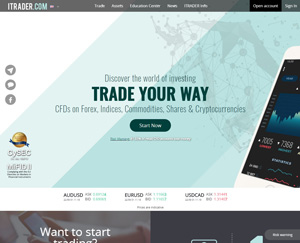 The gold account is designed for the intermediate trader. If you have knowledge of the basics of trading and want to become an expert, then the gold account is ideal for you. The spreads are better than the silver account with EUR/USD spread of 1.3. The spread of GBP/USD and USD/JPY is 2 and 1.5 respectively. The gold spread is 0.48 and crude spread is 0.05 with this account. You get Forex leverage of 1:400. In addition to the service of silver account, you get the services of a dedicated account manager, and webinars and videos with the gold account. You also get a swap discount of 25%.
Platinum Account
The platinum account is the flagship offering of ITRADER. It is specifically designed for the professional traders who are seasoned and know the intricacies of trading. You get the best offers on spreads and leverages using the platinum account. You get EUR/USD spread of 0.7, GBP/USD spread of 1.3, and USD/JPY spread of 0.8. The gold spread is 0.37 and crude spread is 0.03. the Forex leverage with the platinum account is 1:500. In addition to the services of gold account, you get additional services like news alert and VPS with the platinum account. The swap discount is also higher at 50%.
Deposits
Once you open an account with ITRADER, you can make a deposit. The deposit can be made in three currencies - USD/GBP/EUR. The minimum deposit which you need to make before opening an account is 250 USD/GBP/EUR. There is no deposit fee for the deposit made by you on ITRADER.
Withdrawal Policy
ITRADER acknowledges and respects its customer's need for maximizing their profits and realize them. They have a separate unit especially working on providing a hassle-free experience to the customers on making withdrawals. The minimum withdrawal amount on ITRADER is $100/10,000JPY and there are no charges on withdrawals made. In order to make a withdrawal, you must provide proof of residency documents which can include bank or credit card statements, utility bill, etc. A proof of identity document like passports, driver's license, or any other government-issued proof of identity document also needs to be submitted.
You can make the withdrawals using credit cards, bank wire transfer, or Skrill/Moneybookers. The withdrawal process is highly secure due to the use of latest encryption protocols. Once you have submitted your withdrawal request, it may take 5-7 days for you to receive the funds.
Safety of Funds
ITRADER understand the value of your hard-earned money. In order to ensure complete transparency, we maintain separate accounts for our clients and our business. Your funds are kept in a separate account from the company's funds and are closely monitored on a daily basis. ITRADER uses the latest security protocols like robust firewalls, secure sockets layer (SSL), etc. to encrypt the data transmitted to and from their servers. All transactions are moderated by Level 1 PCI compliance servers. All trading servers on ITRADER work from SAS70 certified server centers.
Why Choose ITRADER?
.

Company:

Bayline Trading Limited

Address:

Griva Digeni & Kolonakiou 125, Grosvenor Tower, Ground Floor, 3107 Limassol, Cyprus

Licensed & Regulated by:

IFSC

License Number:

198/13

Support:

+80040015002

Email:

[email protected]
There are many online trading service providers, but ITRADER has carved a niche for itself. It's strong customer-centric approach, thoughtfully designed service offerings, and ease of trading differentiate it from the competition. You should choose ITRADER over other similar service providers due to the following reasons:
State-of-the-Art Trading Platform
You get access to the most popular and award-winning trading platforms like WebTrader and MetaTrader on ITRADER. These trading platforms are convenient and intuitive which make trading a hassle-free experience even for the beginners. The trading platforms provided meet the needs of both beginners and experienced traders. You also get the convenience of trading on the mobile app using your mobile phone. This means that you can execute your trades even while you are on the go and stay updated instantly.
Variety of Financial Assets
Traders get access to trading in a wide variety of financial instruments on ITRADERs. You can trade in the asset class and financial instruments of your choice. You can trade in financial instruments like asset index, forex, CFD, indices, stocks, commodities, oil, gold, etc.
Educational Resources
A distinct advantage of trading with ITRADER is that they provide importance to trader education. You will be getting access to rich resources on trader education. You can get training materials like videos, tutorials, eBooks, articles, etc. which can be useful for improving your trading skills whether you are beginner or experienced trader. You can also learn the intricacies of trading by using their comprehensive online academic center. These resources help you to improve your knowledge and trading skills. You can execute successful and more profitable trades and maximize your profits with ITRADER.
Other Popular Forex Brokers