.We are currently NOT advising you to use Trade.com FX. Please, choose from our reliable alternatives:
Trade.com Review
.

Free Trading Resources

Beginner eBooks

Stocks, Commodities, Currencies, Indices
If you are looking for a leader in the market, Trade.com is considered to be among the best brand names in the trade industry. They are a brokerage firm, who abide by strict program guidelines. They keep their spotless reputation by providing clients with confidential treatment and valuable tools.
Trade.com establishes itself as ambitious and experienced traders who instill education as their weapon to effectively produce a wide variety of products and information that newcomers and veteran traders can use.
Promotions and Bonuses Available
Trade.com incorporates two different affiliate programs for its members. Getting referral bonuses is as simple as introducing your friends and family to the program, and signing them up to Trade.com. You can access and manage your personal accounts, your referrals and their progress using the Trade.com portal, which is the heart of the IB Program. You can find a plethora of tools, such as eBooks, web banner, custom landing pages and personalize guidance and training.
Platforms
MetaTrader is a program that you can download and use as a long term platform. The versatility of the MetaTrader offers the user endless opportunities.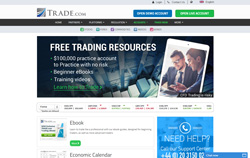 The advantages of using MetaTrader are:
One-click capabilities
Automated engagement
Can use with mobile device or desktop
Receive up-to-date financial news
Forex, Commodities, Indices, CFDs, Bonds and alerts to potential market accessibility
WebTrader enables you to retain flexibility by giving you full access online. The technology makes trading secure and mobile, however, you still have at home capabilities with a desktop.
The advantages of using WebTrader are:
Download is not required to use it
Access through cellular and wireless devises
Touch screen capability
Online support around the clock
Advanced safety features
Immediate access to tools, Commodities, Bonds, Forex, Indices and CFDs, plus the latest headlines on breaking events and potential markets
What about Withdrawals and Deposits?
.

Company:

Leadcapital Markets Ltd

Founded:

2009

Licensed & Regulated by:

CySEC, MiFID

License Number:

227/14

Support:

+44 203 150 0204

Email:

support@trade.com
Trade.com uses the following payment providers: Credit Cards, Bank Transfers, Skrill, Neteller and SafeCharge.
Regulations
With the new US Regulations, all Foreign Financial Institutions must be in accordance with the Foreign Account Tax Compliance Act or FATCA, which requires establishments to disclose certain information regarding reportable individuals.
Lead-capital Markets Ltd ("the Company") is a member of the Investor Compensation Fund (the "Fund") for Customers of Cyprus Investment Firms (CIFs) and other Investment Firms (Ifs), which are not credit institutions, which was established under the Investment Firms Law 2002, as amended and replaced by Law 144(I)/2007 (the "Law") and the Establishment and Operation of an Investor Compensation Fund for Customers of CIFs Regulations of 2001, which were issued under the Law.
Conclusion
Trade.com Forex is designed to help members become lucrative and successful individuals. The commissions and rebate programs are payable using flexible guidelines. Nonetheless, even the best have had to suffer a loss of some kind when using a trading system. Trading with any company implies specific risks. Regrettably, there just aren't any guarantees of profit, even with all of the outstanding tools Trade.com Forex provides. The trader must be certain that if a loss occurs, that they will be able to manage financially.
Other Popular Forex Brokers